Latest
0.0.5
Homepage
https://github.com/vipu1212/GhostPrompt
License
MIT Copyright (c) 2016 Divyansh Singh

Permission is hereby granted, free of charge, to any person obtaining a copy
of this software and associated documentation files (the "Software"), to deal
in the Software without restriction, including without limitation the rights
to use, copy, modify, merge, publish, distribute, sublicense, and/or sell
copies of the Software, and to permit persons to whom the Software is
furnished to do so, subject to the following conditions:

The above copyright notice and this permission notice shall be included in
all copies or substantial portions of the Software.

THE SOFTWARE IS PROVIDED "AS IS", WITHOUT WARRANTY OF ANY KIND, EXPRESS OR
IMPLIED, INCLUDING BUT NOT LIMITED TO THE WARRANTIES OF MERCHANTABILITY,
FITNESS FOR A PARTICULAR PURPOSE AND NONINFRINGEMENT. IN NO EVENT SHALL THE
AUTHORS OR COPYRIGHT HOLDERS BE LIABLE FOR ANY CLAIM, DAMAGES OR OTHER
LIABILITY, WHETHER IN AN ACTION OF CONTRACT, TORT OR OTHERWISE, ARISING FROM,
OUT OF OR IN CONNECTION WITH THE SOFTWARE OR THE USE OR OTHER DEALINGS IN
THE SOFTWARE.

Platforms
ios 8.0, requires ARC
Frameworks
UIKit
Authors
Usage
To run the example project, clone the repo, and run pod install from the Example directory first.
Requirements
Min Version : iOS 8.3
Usage
Using GhostPrompt in code
let prompt = GhostPrompt(height: 55, ParentView: self.view)
prompt.showMessage(Message: "Boooo")
Customizable Properties
Change the height of the prompt bar

promptHeight

Change the prompts the background Color

bgColor

Change the text color of the prompt

textColor

View where to present the prompt

view

Direction from where to show appearing

appearingDirection

Duration of the visibility of the prompt

animationTime
Key Points
Currently alert is shown just at the bottom of the view.
Highly suggested to pass 'self.view' view to prompt
Installation
You want to add pod 'GhostPrompt', '~> 0.0' similar to the following to your Podfile:
target 'MyApp' do pod 'GhostPrompt', '~> 0.0' end Then run a pod install inside your terminal, or from CocoaPods.app.
Alternatively to give it a test run, run the command:
pod try GhostPrompt
GhostPrompt is available through CocoaPods. To install
it, simply add the following line to your Podfile:
Result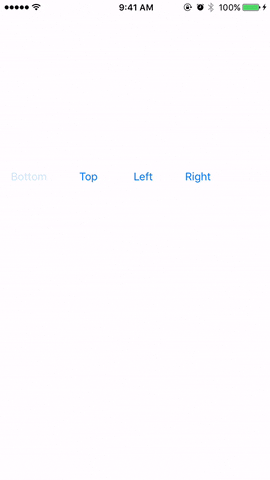 Author
Divyansh Singh, [email protected]
License
GhostPrompt is available under the MIT license. See the LICENSE file for more info.
Latest podspec
{
    "name": "GhostPrompt",
    "version": "0.0.5",
    "summary": "Notification alert much like Android's SnackBar.",
    "description": "Want Android's SnackBar like notification in your iOS app ? Well, it's here with customization in your hand. All you have to do is init GhostPrompt and pass it the view where you need to show it (highly suggested : self.view)",
    "homepage": "https://github.com/vipu1212/GhostPrompt",
    "screenshots": "https://media.giphy.com/media/xT0BKBnnoc26g3In5u/giphy.gif",
    "license": {
        "type": "MIT",
        "text": "Copyright (c) 2016 Divyansh Singh nnPermission is hereby granted, free of charge, to any person obtaining a copynof this software and associated documentation files (the "Software"), to dealnin the Software without restriction, including without limitation the rightsnto use, copy, modify, merge, publish, distribute, sublicense, and/or sellncopies of the Software, and to permit persons to whom the Software isnfurnished to do so, subject to the following conditions:nnThe above copyright notice and this permission notice shall be included innall copies or substantial portions of the Software.nnTHE SOFTWARE IS PROVIDED "AS IS", WITHOUT WARRANTY OF ANY KIND, EXPRESS ORnIMPLIED, INCLUDING BUT NOT LIMITED TO THE WARRANTIES OF MERCHANTABILITY,nFITNESS FOR A PARTICULAR PURPOSE AND NONINFRINGEMENT. IN NO EVENT SHALL THEnAUTHORS OR COPYRIGHT HOLDERS BE LIABLE FOR ANY CLAIM, DAMAGES OR OTHERnLIABILITY, WHETHER IN AN ACTION OF CONTRACT, TORT OR OTHERWISE, ARISING FROM,nOUT OF OR IN CONNECTION WITH THE SOFTWARE OR THE USE OR OTHER DEALINGS INnTHE SOFTWARE.nn"
    },
    "authors": {
        "Divyansh Singh": "[email protected]"
    },
    "source": {
        "git": "https://github.com/vipu1212/GhostPrompt.git",
        "tag": "0.0.5"
    },
    "social_media_url": "https://www.divyanshsingh.com/",
    "platforms": {
        "ios": "8.0"
    },
    "requires_arc": true,
    "source_files": "Pod/Classes/**/*",
    "swift_version": "4.2",
    "frameworks": "UIKit"
}
Mon, 29 Oct 2018 13:20:26 +0000