RALocalization is a simple framework that improves localization in Swift iOS apps – providing cleaner syntax and in-app language switching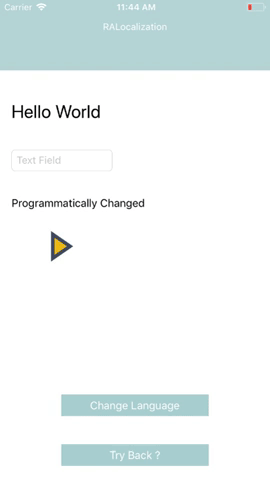 Example
To run the example project, clone the repo, and run pod install from the Example directory first.
Usage
Import the framework
import RALocalization
Add .swizzleClassesMethods() in AppDelegate, setter RTL methods
RALocalizer.swizzleClassesMethods()
For change language use .setLanguage(language: *required language*)

Example:
RALanguage.setLanguage(language: .hebrew)
If you have a subview with UIImageView just add tag (-1) to it to RTL if your using Hebrew or Arabic.
Installation
RALocalization is available through CocoaPods. To install
it, simply add the following line to your Podfile:
pod 'RALocalization'
Author
rallahaseh, [email protected]
License
RALocalization is available under the MIT license. See the LICENSE file for more info.
Latest podspec
{
    "name": "RALocalization",
    "version": "0.1.0",
    "summary": "RALocalization provides simple yet robust right-to-left(RTL) capability for Swift.",
    "description": "RALocalization is a simple framework that improves localization in Swift iOS apps - providing cleaner syntax and in-app language switching.",
    "homepage": "https://github.com/rallahaseh/RALocalization",
    "license": {
        "type": "MIT",
        "file": "LICENSE"
    },
    "authors": {
        "rallahaseh": "[email protected]"
    },
    "source": {
        "git": "https://github.com/rallahaseh/RALocalization.git",
        "tag": "0.1.0"
    },
    "social_media_url": "https://twitter.com/rallahaseh",
    "platforms": {
        "ios": "8.0"
    },
    "pod_target_xcconfig": {
        "SWIFT_VERSION": "4.0"
    },
    "source_files": "RALocalization/Classes/**/*",
    "pushed_with_swift_version": "3.0"
}
Wed, 18 Oct 2017 13:40:08 +0000