A customizable side menu for iOS projects written in Swift. Multiple menu animation types supported!
Example
To run the example project, clone the repo, and run pod install from the Example directory first.
Installation
PGSideMenu is available through CocoaPods. To install
it, simply add the following line to your Podfile:
pod "PGSideMenu"
Usage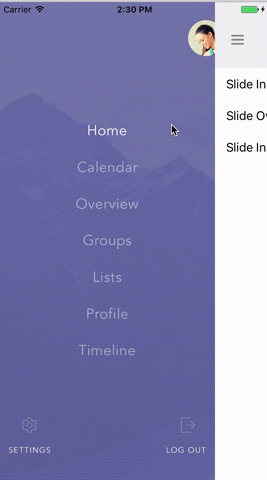 See example project for usage.
Setup you side menu with a content, left and right controller.
let sideMenuController = PGSideMenu()
let contentController = YourContentController()
let leftMenuController = YourLeftMenuController()
let rightMenuController = YourRightMenuController()
sideMenuController.addContentController(contentController)
sideMenuController.addLeftMenuController(leftMenuController)
sideMenuController.addRightMenuController(rightMenuController)
self.window?.rootViewController = sideMenuController
Choose which animation mode you want to use.
sideMenuController.animationType = .slideInRotate

Toggle the menu
sideMenuController.toggleLeftMenu()
sideMenuController.toggleRightMenu()
Hide whatever menu is shown
sideMenuController.hideMenu()
Disable gesture interaction with menu
sideMenuController.enableMenuPanGesture
Available animation type
slideIn
slideOver
slideInRotate
If you have any suggestion on other animation types, let me know or leave a pull request :)
Author
pgorzelany, [email protected]
License
PGSideMenu is available under the MIT license. See the LICENSE file for more info.
Acknowledgements
Designed taken from: https://www.invisionapp.com/do/sketchappsources
Latest podspec
{
    "name": "PGSideMenu",
    "version": "1.2.0",
    "summary": "A customizable side menu for iOS",
    "description": "A customizable side menu for iOS projects written in Swift. Multiple menu animation types supported!",
    "homepage": "https://github.com/pgorzelany/PGSideMenu",
    "license": {
        "type": "MIT",
        "file": "LICENSE"
    },
    "authors": {
        "pgorzelany": "[email protected]"
    },
    "source": {
        "git": "https://github.com/pgorzelany/PGSideMenu.git",
        "tag": "1.2.0"
    },
    "platforms": {
        "ios": "8.0"
    },
    "source_files": "PGSideMenu/Classes/**/*",
    "resource_bundles": {
        "PGSideMenu": [
            "PGSideMenu/**/*.{storyboard,xib}"
        ]
    },
    "pushed_with_swift_version": "3.0"
}
Mon, 05 Mar 2018 17:00:07 +0000