To show multiple large images as pages along with thumbnails. Each large image can be zoomed in/out. Can be used as a image browser.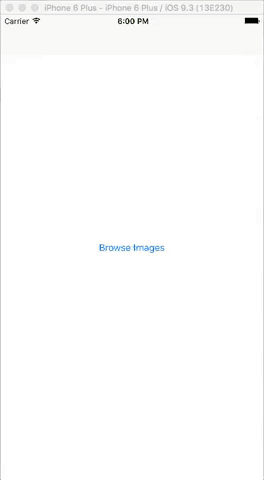 Example
To run the example project, clone the repo, and run pod install from the Example directory first.
Requirements
Installation
KTMImageBrowser is available through CocoaPods. To install
it, simply add the following line to your Podfile:
pod "KTMImageBrowser"
Author
Kishore Thejasvi, [email protected]
License
KTMImageBrowser is available under the MIT license. See the LICENSE file for more info.
Latest podspec
{
    "name": "KTMImageBrowser",
    "version": "0.3",
    "summary": "To show multiple large images as pages along with thumbnails. Each large image can be zoomed in/out.",
    "description": "To show multiple large images as pages along with thumbnails. Each large image can be zoomed in/out. Can be used as a image browser.",
    "homepage": "https://github.com/kishoretheju/KTMImageBrowser",
    "license": {
        "type": "MIT",
        "file": "LICENSE"
    },
    "authors": {
        "Kishore Thejasvi": "[email protected]"
    },
    "source": {
        "git": "https://github.com/kishoretheju/KTMImageBrowser.git",
        "tag": "0.3"
    },
    "social_media_url": "https://twitter.com/kishore_munna",
    "platforms": {
        "ios": "7.0"
    },
    "source_files": "KTMImageBrowser/Classes/**/*",
    "resource_bundles": {
        "KTMImageBrowser": [
            "KTMImageBrowser/Assets/*.{storyboard,xib}"
        ]
    },
    "dependencies": {
        "AFNetworking": [
            "~> 3.0"
        ]
    }
}
Mon, 20 Feb 2017 16:40:10 +0000